1. Big Ant Studios "Cricket 19"
Cricket 19 looks and feels more like the real thing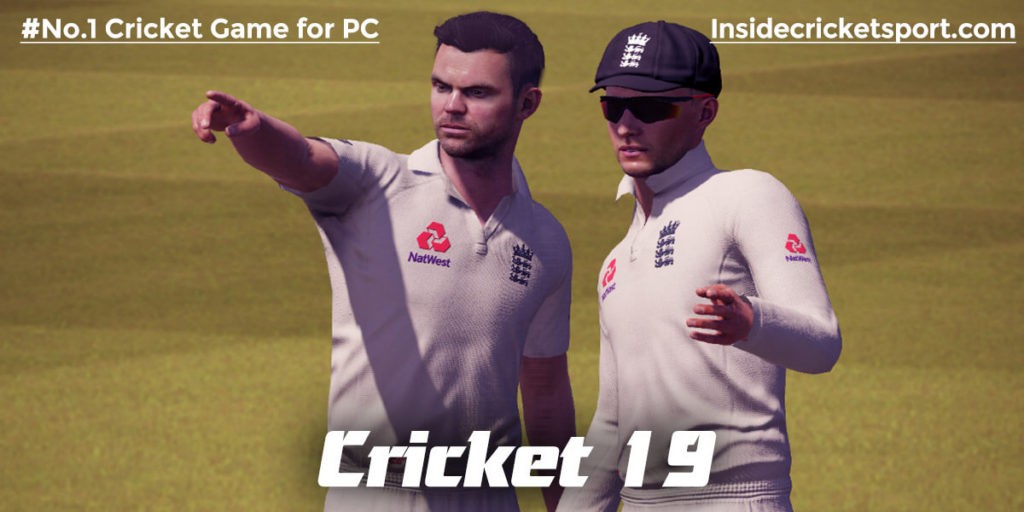 *Note: Click on the arrow to Expand section…
Cricket 19: #No.1 on the list of Best Cricket games for PC.
Big Ant Studios, the maker of popular/ best cricket games for pc such as Don Bradman Cricket 17, Ashes Cricket, and Big Bash Cricket, has recently launched a new game in partnership with the England and Wales Cricket Board (ECB).
Cricket 19 is the first Big Ant Studios cricket game released for the Nintendo Switch. Apart from that, it has already been released on the consoles – PS and XBOX.
Cricket 19 features all formats of the international game, both men's and women's teams, and all host venues. This includes the Specsavers Ashes, fully licensed for both England and Australia. Deep enhancements to the AI engine means that the opposition is more realistic than ever before.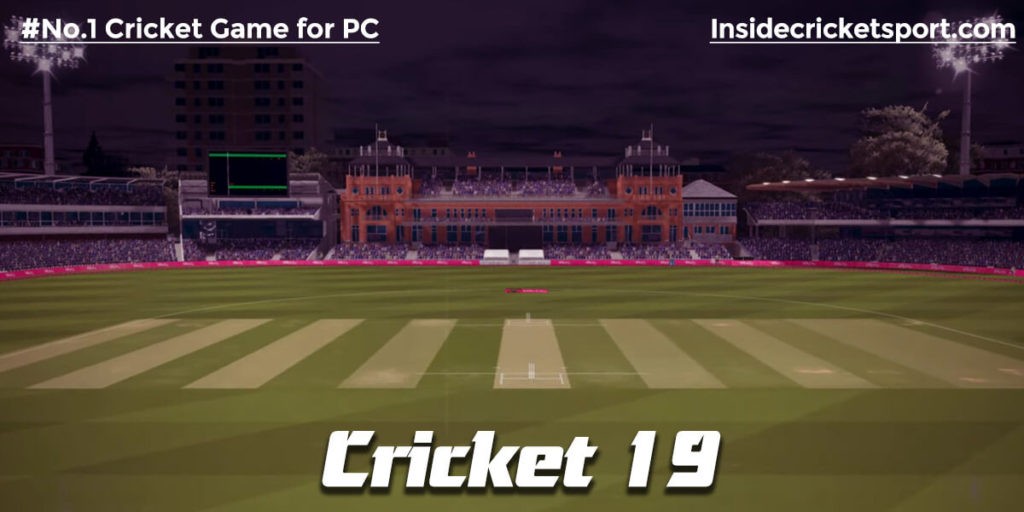 When bowling, the AI will suss out your player and team's weaknesses, and target that with a concentrated bowling strategy. When batting, the AI will rotate the strike to protect weaker players, and actively look for gaps in the field.
New features to be added to Cricket 19 include a scenario mode, which allows players to recreate the greatest matches in history, and then share them online to challenge other players to achieve difficult run-chases or play out a draw from a disastrous situation.
There's a lot to explore in this #No.1 best cricket games for pc, but we are keeping it short.
Deep player, stadia, logo, and scenario creator.
Full support for all formats of cricket – T20, ODI and Test Match
Comes with Real-world AI and tactics
Dozens of teams to choose between
Rated as one of the best by reviewers and gamers
Cricket 19 System Requirements (Recommended)
OS: Windows 10 (x64 bit)
Processor: Intel Core i5-4200 / AMD Phenom II X4 970
Memory: 8 GB RAM
Graphics: AMD Radeon R9 390X or NVIDIA GeForce GT 970 with minimum 2GB Memory
DirectX: Version 11
Network: Broadband Internet connection
Storage: 25 GB available space
Additional Notes: Controller Required
How to Download Cricket 19
As this game is among the best cricket games for pc 2020, you can find many websites on the Internet and also some youtube videos that provide *fake* download links of this Cricket 19 game. Also, some provide a Cracked version of this Cricket 19 Game.
Well, if you indulge in this type of fake act then you are wasting your Data and also you are inviting attacks to your android phone or your pc as these fake links are created by attackers which usually target trending topics, especially download links. You can get more information regarding this on google.
Anyways, We are providing genuine links to Buy Cricket 19 game.
If you are wondering whether you should buy cricket 19 or not, then you must watch the gameplay video which we have attached below so that you can easily make the right decision.
Also, remember that you are purchasing the #No.1 Cricket game among the list of 5 Best Cricket Games for PC 2020.
Additional Requirements for Cricket 19 Game
If you want to play games like DBC 17 or Ashes Cricket or Cricket 19 then your pc/laptop must be compatible.
If your pc isn't compatible then you just need to upgrade your specs. Either get the latest graphics card here or else get any one of these gaming laptops.
Quality Game Controllers
Few Gamers claim that you can play Cricket 19 with your keyboard, well if it's true then you can try to mess up things by installing various third part softwares, but in the end, you'll think of a game controller.
That's why from the beginning of this post, we are recommending some of the best & cheapest game controllers which will allow you to play all these best cricket games. Quantum and Readgear are the cheapest gamepads available on Amazon.
Review on Cricket 19 (by IGN)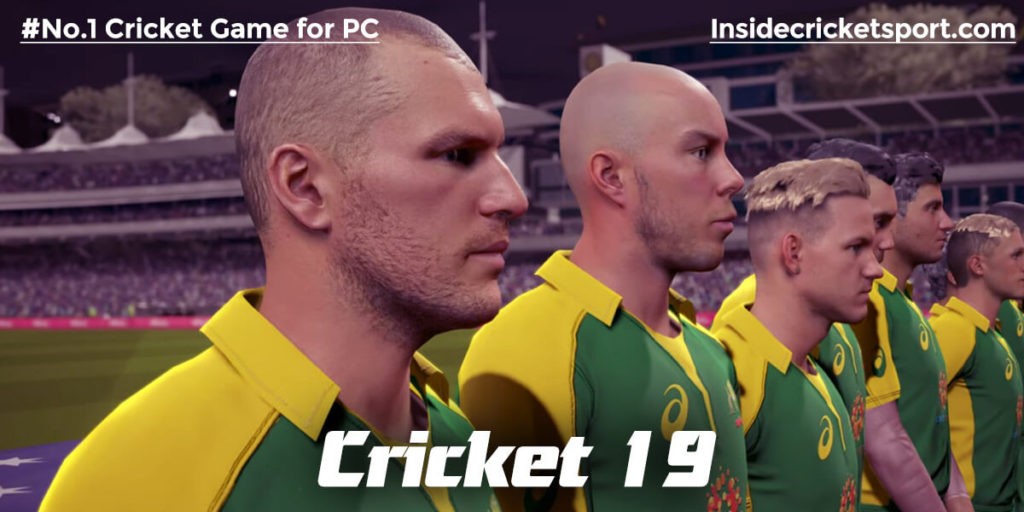 Cricket 19's presentation and gameplay may feature more distracting niggles than an Australian slip cordon, but in spite of such grievances, it's still the closest to the real thing that a cricket game has ever been.
Scenario mode is a welcome inclusion in terms of the almost limitless replayability it provides, and substantial improvements to the AI make games against the computer feel palpably exciting. With a bit more post-release polish Cricket 19 could really shine. Cricket 19 looks and feels more like the real thing. – IGN
Bonus for iCS Readers
If you have decided to try the #No.3 best Cricket game for pc i.e EA Sports Cricket 07, then we have something special. Now you can enjoy the Vivo IPL 2019 as well as ICC Cricket World Cup 2019 tournament in this game.
Currently, we have 2 Mods for this great game which you can Easily Download and Install in your pc. In the near future, we'll also bring Vivo IPL 2020 as well as ICC World T20 2020 mod for this Cricket 07 game.
FAQ's "Best Cricket Game for PC"
What are the Best Cricket Games for PC?
There are a number of cricket games available for pc, out of which the 10 Best cricket games for pc are:
1. Cricket 19 by BigAntStudios
2. Ashes Cricket by BigAntStudios
3. EA Sports Cricket 07 by EA Sports
4. Ashes Cricket 2009 by CodeMasters
5. Don Bradman Cricket 17 by BigAntStudios
6. Don Bradman Cricket 14 by BigAntStudios
7. Brain Lara Cricket 2007 by CodeMasters
8. Cricket Revolution by MindStormStudios
9. EA Sports Cricket 2005 by EA Sports
10. Big Bash Boom by BigAntStudios
Out of all, Cricket 19 is highest rated by gamers, so we can consider Cricket 19 as the no.1 cricket game available for pc in today's date.
What are the 5 Best PC Cricket games in 2020?
There's a huge list to consider when it comes to cricket games, but if have to limit it to only 5, then here's our 5 Best PC Cricket Games in 2020 that you can download & play:
1. Cricket 19
2. Ashes Cricket (2017)
3. Ea Sports Cricket 07
4. Codemaster's Ashes Cricket 2009
5. Don Bradman Cricket 2017
Which is the Best Graphics Cricket Game?
Many cricket games provide amazing grapchis but the best graphics cricket games are produced by Big Ant Studios. The company has developed some of the top graphics games such as Cricket 19, Ashes Cricket, DBC 17 & is one of the top publishers in cricket gaming.
If we need to consider one game, then Cricket 19 is the best graphic cricket game available for pc.
What are the Best Cricket Games for low-end pc?
Ea Sports Cricket 07, Ashes Cricket 2009, Street Cricket are some of the best cricket games for low-end pc. Besides these 2 games, you can also play old cricket games such as Brain Lara Cricket & EA Cricket 05 on PC which has minimum RAM.
So, Ea Sports Cricket 05, Ea Sports Cricket 07, Ashes Cricket 2009, Street Cricket & Brain Lara Cricket 07, etc games come under the best cricket games for low-end pc as well as best cricket games for 1GB/2GB RAM. Users with low-end pc can download and play these games.
What are the Best Cricket Games for PC without Graphics Card?
Usually, there are very few cricket games that users without a graphics card can enjoy.
Older games such as EA Sports Cricket 05, EA Sports Cricket 07, Street Cricket, etc can be considered as the best cricket games for pc without a graphics card. Although some games may run smoothly, most will lag.
Over to You
There are some more cricket games available for pc but those games don't make it to our list of 5 Best Cricket Games for PC.
Please note, this list was prepared according to our preferences, we have mentioned it at the beginning of the post as well.
So, if your loved game isn't on this list then it might not have met our criteria. You can help us make this list even better by providing the information we may have missed.
Let us know your list of 5 Best Cricket Games for PC in 2020 that one should download and play in 2020. Also, make sure you share this post within your community!