It's 2020 now but still the craze for EA Sports Cricket 2007 game hasn't faded away. I know almost each and every gamer has played Cricket 07 game on their PC by applying the latest released cricket 07 patches/mods and other kinds of stuff, Right?
Dear Visitor, It's most likely that you are visiting this post from Locations such as Punjab, West Bengal, Karnataka, or UP and if you are not from here then I'm damn 1000% sure that you are from either Kerala, Chandigarh, Odisha, Haryana or Bihar. I'm I Right?
If Yes, then continue reading as I'll let you know how I know your location. Just clearing that, I or Team ICS is not tracking you 🙂
Moving on…
You may have downloaded & installed a number of mods, but still, you may be looking for the top ones, Right? So today, I'm gonna break down 7 Awesome Cricket 07 Patches for EA Sports Cricket 07 Game that you must try!
You can get Cricket 07 Game here.
No one can deny the fact that EA Sports Cricket 2007 Game is one of the Best Cricket Game for PC, and hence we have rated it #No.3 Position on our list of Best Cricket Games for PC.
Don't Miss:
Now, before I dig into the list, here are some awesome numbers:
EA Sports Cricket 07 has more than 7M Downloads. (4M+ on Softonic alone and On Other Sites, it has more than 3M Downloads)
The above data really doesn't surprise me. But, what does is the numbers I found on Google Trends. Just look at the data below.
Please Note: The below embedded is a javascript code. In some cases, it doesn't load. If this happens on your visit then please do a favor to reload this page.
The above data clearly illustrates that the terms like cricket 07, ea sports cricket 07, and ea sports cricket 2007 have a huge search volume over the past 12 months on google.
And if we dig deep into it, here's what we get: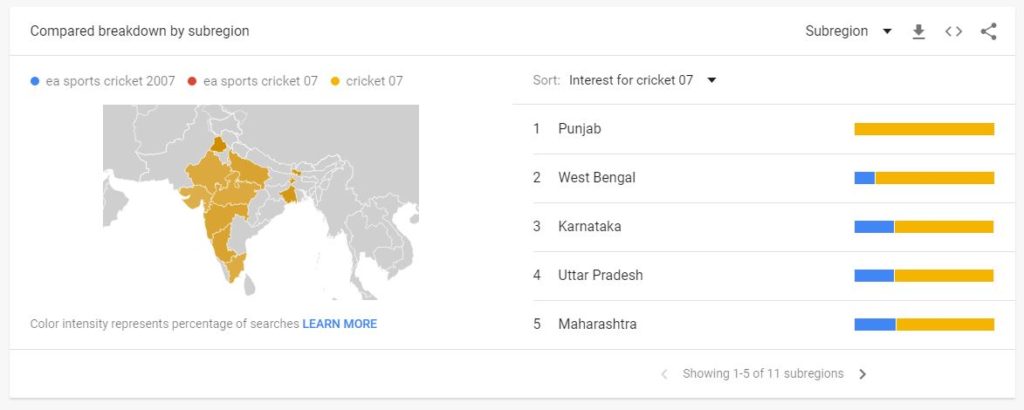 For the Popular Term Cricket 07, most searches come from States like Punjab, West Bengal, Karnataka, Uttar Pradesh, and Maharashtra. For another Popular Term EA Sports Cricket, most searches come from States like Kerala, Chandigarh, Odisha, Haryana, and Bihar.
Now, this is how I know that you are from these regions. Just some keyword research and common sense. Hahaha…
Anyways, now before I share my list of Top 7 Awesome Cricket 07 Patches, I would like to share the number of games EA Sports have released so far in Sports/Cricket Category.
---
EA Sports Cricket Games Released so far
Here's the genuine list of EA Sports Cricket Games released so far (Officially)
Cricket 96
Cricket 97
Cricket World Cup 99
Cricket 2000
Cricket 2002
Cricket 2004
Cricket 2005
Cricket 2007
Now, if you are wondering where's EA Sports Cricket 2018 or EA Sports Cricket 2019 on the list. For that my simple answer is: Launch of EA Sports Cricket 2019 was a hoax created by some popular websites just to gain traffic.
EA Sports haven't released any cricket game after their popular Cricket 07. We'll discuss some other day, Why EA Sports stopped producing more cricket games.
For now, let us focus on what's available i.e cricket 07 patches…
---
7 Awesome Cricket 07 Patches (Free Download)
1. Planet Cricket 2019 Phase 1 & Phase 2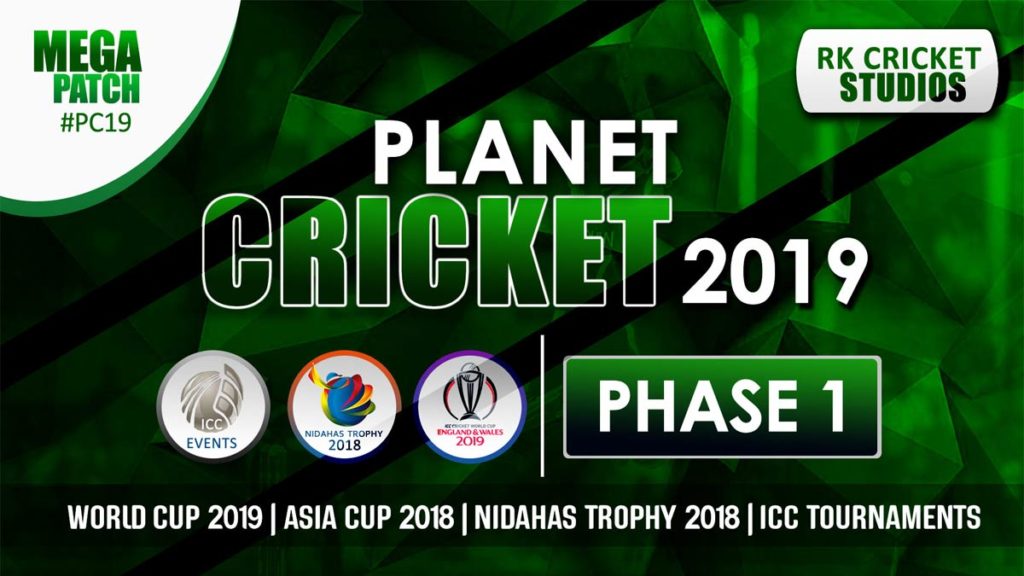 I'm sure you know about the popular forum website planet cricket. If yes, great, and if no, you must visit the site and signup now.
The PC Team has developed 2 New Mega patch under their own name PC19 and has released their mod last year in the Summer Season.
Some of the Key Features of Planet Cricket 2019 Phase 1
Tournaments like Asia Cup 18, Nidahas trophy 2018, WC 2019, ICC tournaments, Rivalry Series, etc.
Very Hard & Tough Gameplay at 3-4 Star
New 2019 Jukebox provided along with Stoke Variations.
New Field Setups added to make your game more challenging
New Pitchads and Planet Cricket Original Stumps
Updated Rosters and High-Quality Faces as usual.
Some of the Key Features of Planet Cricket 2019 Phase 2
New High Umpire Model provided
New HD BATS included along with Stoke Variations
Updated Stadiums with New Structure & Crowds + HQ Player Model
Domestic League/Tournaments like Vivo IPL 2019, BBL 19, PSL 19, CPL 19, etc.
Planet Cricket Developers have made this patch very hard for batting lovers and hence gets less appreciation and more criticism.
But in my opinion, it's one of the best patches for cricket 07. It does have some flaws but still, it's a highly rated game that you should try. Check out Ea Sports Cricket 2019.