Playing Cricket 07 Game in Windows 7, Windows XP is a lot of fun as the game runs smoothly, right?
But we know that it's not the same for Windows 10 users. They usually face problems like cricket 07 not working on windows 10, getting errors while installing and the list goes on…
So, today in this article, you'll learn
How to download cricket 07 in Windows 10
How to run cricket 07 in windows 10
Fix: Cricket 07 not working in Windows 10
Fix: Cricket 07 lagging in Windows 10
And a few more useful guide. So, let's roll in…
Download Cricket 07 in Windows 10
First and foremost, you need to download cricket 07 for Windows 10. If you have the original version then it's great & if you don't have then you can download cricket 07 game here.
If you have the cricket 07 game, then you might like the latest mods for the game. Here's some of them…
How to Run Cricket 07 in Windows 10
If your cricket 07 is not working in Windows 10, then you try following these 2 Easy Methods/Settings to make cricket 07 run in Windows 10.
*Note: The below-provided methods are tested and have worked for most of the Windows 10 users, so don't hesitate to apply these methods.
Methods 1: Change the Cricket 07 Compatibility
Step 1: Open your Cricket 07 Game folder and look for cricket07.exe file (the one from which you open the game). Now, right-click on it and select the last option i.e properties. (Refer the image provided below)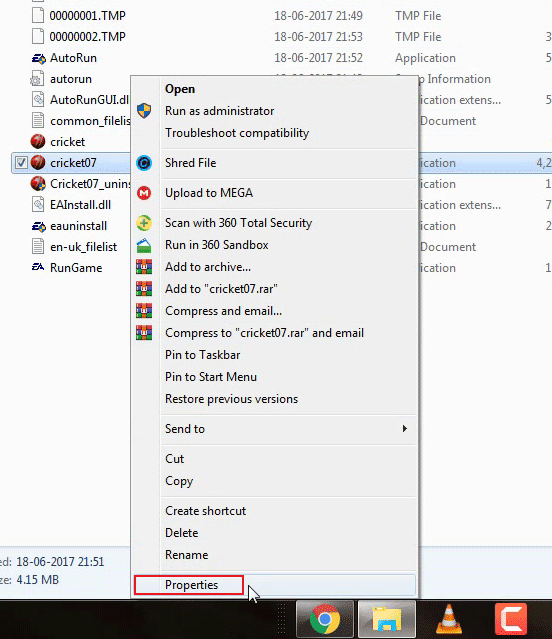 Step 2: By default, you'll be on the General Tab, switch to the Compatibility option. Here, in the compatibility mode, you will get a checkbox on the left side of "Run this program in compatibility mode for".
All you have to do is check this box. (Refer the image below)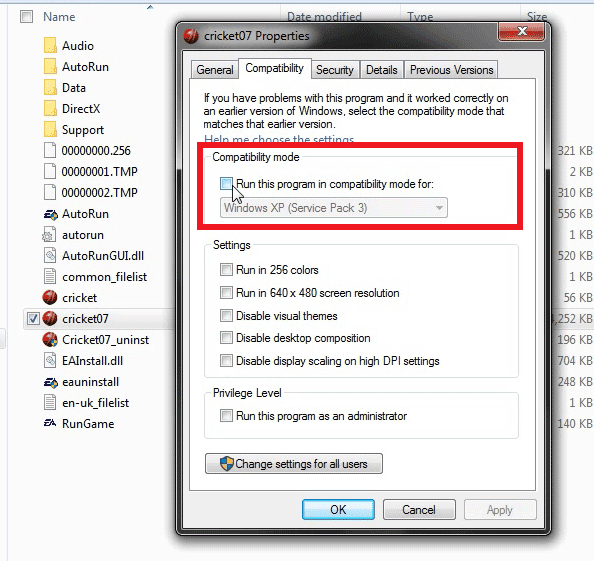 Step 3: After you check that box, you'll be able to select the compatibility mode. From the dropdown, select Windows XP (Service Pack 3) or Windows 7.
*Note: Both of the options works fine but we recommend using Windows XP (Sp3), as it makes cricket 07 run smoothly in Windows 10. (Refer the image below)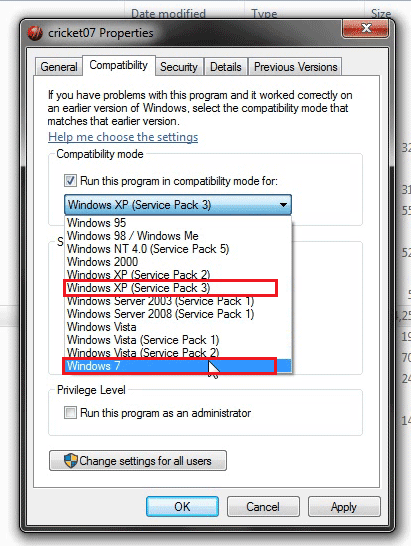 Step 4: Click on Apply to save the settings. Now, run the cricket07.exe application and see the changes. Cricket 07 game should work. If it does, great & if it doesn't follow the method 2.
Method 2: Set Custom Resolution for Cricket 07 Game
*Note: This method is for two types of users. One if for users with Graphics card and other is for Users without Graphics card.
Method for Users with Graphics Card:
In this method, you have to change your resolution to "640×480".
If your system has graphics, then you'll get some options related to the graphics driver when you simply right click on the desktop.
So the step is to right-click and select the graphics option, after that select Display option, and then on the left panel or right panel you'll see an option 'Custom resolution'.

Head over to that and then Set width as 640 and height as 480, also for refresh rate put the value 60 & then on the bottom right you'll see a + sign, click on that and select add. Now you can play your game.

Note – This is for those who have a graphics card, to check whether you have or not, simply right click on the desktop and if you any intel, Nvidia, etc option that means you have that graphics option and you can set a custom resolution if you don't see any graphics driver option then here's what you can do.
Method for Users without Graphics Card:
If your system doesn't have graphics, then no worries, you can still apply this method.
Again go to the compatibility mode by following Step 1 & 2 shown in Method 1, then under the compatibility mode, you'll get some additional settings option.

Here, select the second option " Run in 640 x 480 screen resolution"

After that click on apply and now you are ready to start your c07 game.
How to Fix Cricket 07 Lagging in Windows 10
If your cricket 07 game is working but lagging at times, then we have a solution for that as well.
All you need to do is "Change the compatibility for your game to Windows XP (SP3)".
To do that, just follow the steps mentioned in "Method 1" and then your game should work flawlessly.
Final Words
By the end of this tutorial, your cricket 07 game should work and all your queries like cricket 07 not working in windows 10, cricket 07 lagging in Windows 10, etc should be solved.
Also, we have provided cricket 07 for windows 10. You can download the original version of the game as well.
Lastly, would like to request you to leave your feedback on this tutorial. If any of the method worked or didn't worked, just let us know in the comments section. It'll be helpful for all.
Keep visiting InsideCricSport for more tutorials, cricket 07 patches and other pc cricket games.