Recently heard about EA Sports Cricket 2020 game? Well, it's no wonder if you are here, then you are probably looking for download links of ea cricket 2020, right? Sorry to say, but at the beginning of the post, let me clarify that you won't be getting a new cricket game. Today, I'm going to expose some web owners & show you facts which may shock you. Interested? Keep reading…
Time and time again, we (team iCS) have mentioned one thing in bold texts and quotes i.e
EA Sports stopped making cricket games after their very popular Cricket 07 game.
Yes, the above line is a reality. There were many reasons for which they (EA) needed to stop the streak and discontinue publishing more cricket games. We'll discuss why EA stopped cricket games some other day.
But for now, keep in mind that Ea hasn't released any cricket game after their very popular Cricket 07 game which is also regarded as the best pc cricket game even in 2020.
Finding it difficult to digest? Ok, let me clarify things and show you the reality…
Update: Ea sports Cricket 2020 patch has been released & now available to download. Click here to download cricket 2020 game.
---
The Reality of Ea Sports Cricket Games (Cricket 2019)
Back in 2017, Sportskeeda a popular sports website wrote an article in which they claimed that Ea Sports is going to release a new cricket game i.e Ea Sports Cricket 2019 till the end of 2018. They claimed so many things but had nothing to cite.
This article purely benefited their website with huge spikes in traffic as they ranked for the term "ea cricket 2019" on google for a couple of years. (Even today, that article is available on their website)
I really don't know why they needed additional traffic for which they tend to use the clickbait technique just like YouTubers do.
You won't believe that other popular websites also grabbed this traffic opportunity and wrote a similar article to spread the same rumor & gain trafffic.
Those reports that claimed EA has made an announcement cite no believable sources. And if EA actually did, they would have advertised, announced, created a trailer video & invested huge money to promote their to be released cricket game. (Just like they do in order to promote FIFA games)
There was no real source or a press release or an official announcement by Electronic Arts regarding the 'New EA 2019' cricket game.
Also, EA didn't mention anything on their so popular "Coming soon" page. When EA is about to release new games, they first mention the release date along with its cover photos. (See Coming soon page snapshot – May 2020)
Back in 2018-19, Ea didn't mention anything about Cricket 2020 on their coming soon page. This brings us to the conclusion.
So the conclusion is there's no EA Cricket 2019 as well as there's no EA Sports Cricket 2020 and still you have to use the same modded versions of the game.
By the way, you can check out some mods here…
If you were searching for ea sports cricket 2020 news, then the biggest news for you is Ea sports cricket 2020 is just another keyword/term aroused because of curiosity.
Let me explain…
This year, no one used the same 2019 technique to gain additional traffic (i.e spreading fake rumors, ranking on keywords, gaining traffic). According to me & my fellow members, we think that this "ea cricket 2020" keyword is aroused just because of curiosity.
Here's what I mean…
As in 2019, "Ea cricket 2019 soon to be released" this was badly promoted (at last gamers got the same modded version) therefore this year, they (you also) might have thought that maybe EA has released their game or made some announcement this year.
So, just to get information regarding EA Cricket 2020, people started googling terms related to cricket 2020 & now, it's almost a trend. See the data below…
In the above-attached data, you can see that from Feb 2020, the bars (trends) have gone up and in May 2020, it's even higher.
People from Gujarat, Telangana, Tamil Nadu, Delhi, are very much interested in these topics, you can check this information on google trends.
I hope you got to know the reality of the EA Sports Cricket Games. We also used this trending keyword, but in a positive and informative way, meaning we could also have done the same thing like sportskeeda & claim that EA is planning to release cricket 2020 in this article, but we are honest gamers & therefore instead of using the fake technique, we exposed the ones who did this in the past & shared the real information with you.
The conclusion is, this year, you have to use the same mods, apply them in C07 & play the game. So, if you were looking for ea sports cricket 2020 patch download, then here's something interesting for you…
---
EA Sports Cricket 2020 Patch/Mod?
As you all know that modders release their amazing custom build mods every year & the same is going to happen this year.
Team HD Studioz is going to release one mod in which you'll get all the "International tournaments". Currently, I don't have much information about the mod, but one thing I know & that is it's the release date. See below…
---
EA Cricket 2020 Release date
As mentioned above, modders will release their EA Cricket 2020 patch till the end of May 2020 or in the first week of June 2020. Aug Update: Cricket 2020 now released! Get it here.
Whatever the case, we (team iCS) will definitely let you know about the patch and also we will update this post which will contain all the info about the patch.
If you are interested & want to play the game then bookmark us (Ctrl + D) or else remember our site name i.e InsideCricSport & lastly subscribe us via push notification.
Before summing it up, let me just share cricket 2020 game requirements (predicted)
Also Read:
---
Requirements of Cricket 2020 Game (Predicted)
System Requirements of Ea Sports Cricket 2020 Game
Operating System: Windows 7/8/10
Architecture: x64, x86
DirectX: DirectX12 API
Memory: 512 MB
Video Memory: 1 GB
Essential Requirements of Cricket 2020 Game
Original Cricket 07 game
Game Controller
Game Mod files and Roster Files
Other Imp files i.e Adds on (If released)
EA Sports Cricket 2020 Game Developers
Oops! No idea about the game developers 😀
---
Best Gamepads to Play EA Sports Cricket Games
We have mentioned (as well as promoted) it 1000's of times, that Readgear is the best gamepad to play EA Sports games. It's no wonder that playing pc games with gamepads gives us a different feeling and overall it enhances the whole gaming experience, right?
So, if you want to enhance your experience while playing any Cricket pc game then you can grab any of these gamepads. They are the best for EA sports games and also the cheapest in the market.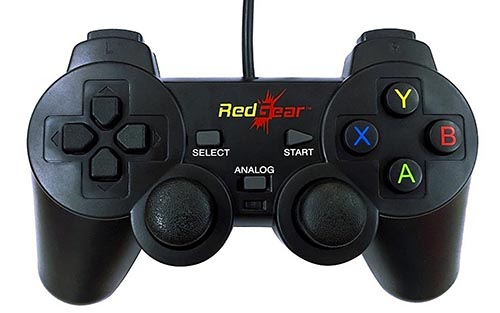 Want gaming accessories at budget price? Go for "Readgear" – A popular and a budget-friendly gamepad endorsed by team iCS. Here are some of its features…
It has 8 Way Direction Buttons.
2 Analog Triggers, 2 analog sticks.
10 digital keys.
1.8m USB cable.
X-D Input mode. Big Advantage Over Quantum 7568.
Compatible for Windows 7 / 8 / 8.1 / 10.
I have linked the best and cheapest game controllers, one is Readgear & another is Quantum. The best part of these controllers is they can be used for other pc games as well. Grab these gamepads from the trusted source i.e Amazon.
Pre-order and keep it with you until EA Sports Cricket 2020 Patch releases 😀
---
Final Words
Woah! If you have reached this section, then I seriously thank you for reading the whole article (genuine).
Lastly, I would like you to keep patience for a while (until game releases) & also, share your views on this topic.
Comment your queries related to ea sports cricket 2020 or anything else. Also, if you liked our genuine article (as mentioned, we could also have created a fake article & make you fool, but we didn't) then please appreciate our work by sharing this article on your social profiles.
Also Check out:
Image Credits: Mega Cricket Studios