TATA IPL 2022 #RETAKE
TATA
IPL 2K22 Game

| Brand New IPL Edition Cricket 2022 Game for PC/Laptop (Compatible with Windows XP/7/8/10/11)

Exclusive Offer! It's

Festive Special

SALE - FLAT 75% OFF | Hurry up!
Buy Now and Save: ₹ 750.00 (75% OFF)
Customer's Rating in a
Nutshell
Ease of Use (Download & Install)
Will recommend his/her friend
Hurry up!
SPECIAL HOURS SALE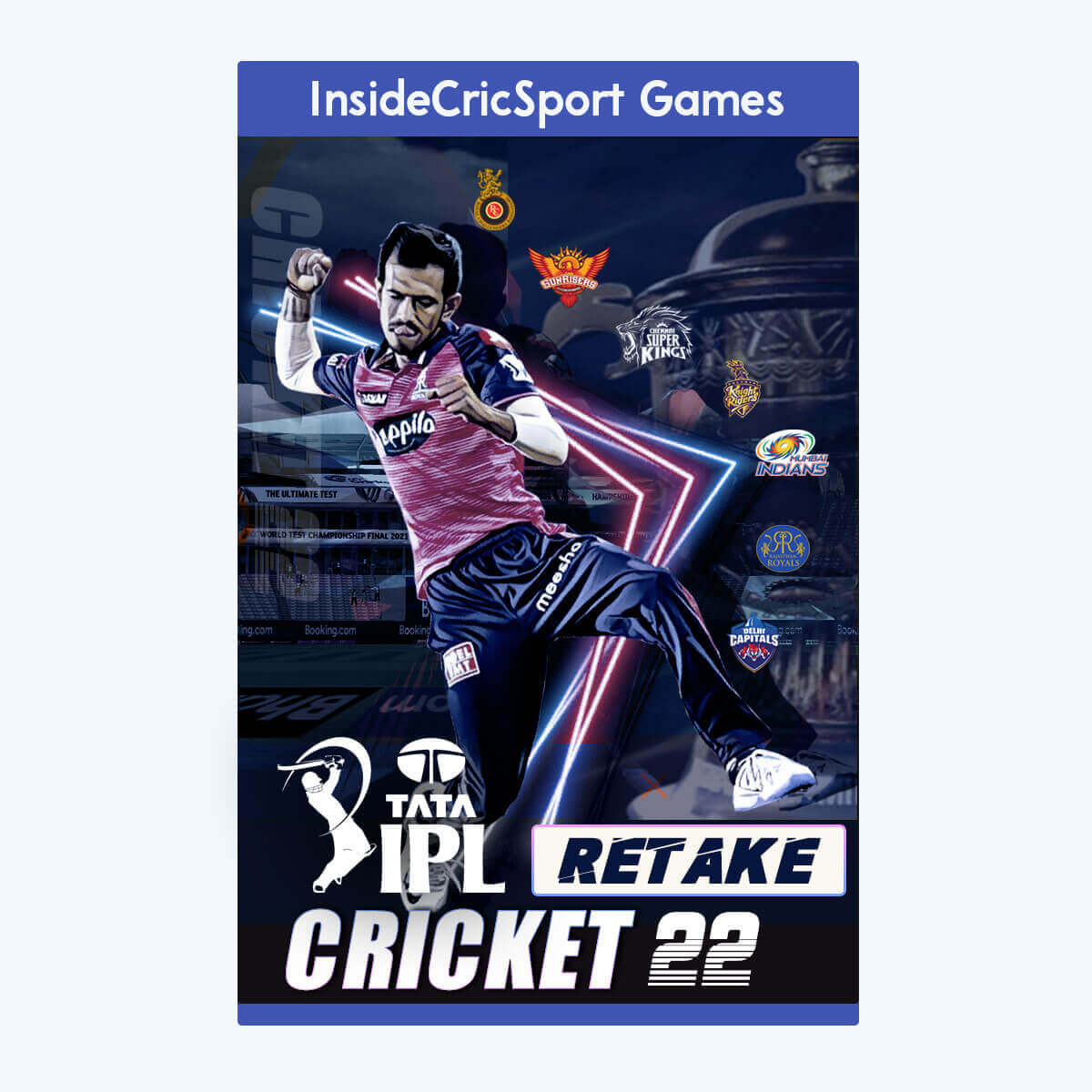 Powered by InsideCricSport, the TATA Indian Premier League 2022 game delivers the exact/realistic experience of IPL 2022 in Cricket 07. This IPL #RETAKE edition of 2022 Mod Features the complete IPL 2022 tournament including new exhibition matches, containing all the latest stuff like the latest IPL 2022 Teams with New IPL HD Kits & Accessories, New Team Logos, New Indian Stadiums without Crowd, accurate squads, and so on.
With all the latest faces, realistic 2022 Indian IPL-like stadiums, and accurate squads of all IPL teams, it also features new super-realistic broadcasting overlays of all 10 IPL Teams (CSK, RCB, SRH, MI, DC, PBKS, RR, KKR, LSG, GT)
A lot of unique camera angle along with new modified gameplay is included to deliver a champions-caliber experience with closer controls towards the game engine. It's solely developed by Team HD Studioz & A2 Studios.
Everything upfront,
No Hidden Charges!
It's a Feature Rich Game, Seriously!
Take a Look at some of the
TATA IPL 22 FEATURES

that will make you crave for this game!!!

*Note: You can click on the image(s) to zoom.
Pack your kitbags &
Play around India's Realistic IPL Stadiums
TATA IPL Cricket 2022 Game is packed with the latest & updated (Mumbai Specific) Indian Stadiums such as Wankhede, DY Patil,  MCA Pune, Brabourne, and Eden Gardens, Narendra Modi Stadium, and many more. Moreover, all IPL 2022 Stadiums are filled with crowds to give you a true-to-life experience.
Be confident and
Hit Monster Sixes with Top-Notch Branded Bats
Unlike other games where you get only plain bats for the top cricketers, it's not the same in IPL Cricket 22.
All of your favorite cricketer's bats like DSC, MRF, CEAT, Kookaburra, SG, New-Balance, GM, SS, TON, Spartan, etc are included & assigned accurately in this game. Get excited to play as you've got branded bats in your arsenal.
Gear up with the
Latest IPL Jersey's & Prepare for the T20 Battle
Packed with Super Realistic and detailed kits of all 10 TATA IPL 2022 Teams.
Sponsors, Patterns, etc are also updated for each IPL team. It also includes Kits of renamed IPL team – Punjab Super Kings & the two newcomers - Lucknow Super Giants & Gujarat Titans.
You'll Feel Awesome as
Your Favorite Cricketers' Appear Real in the Game
IPL Cricket 2022 comes with the most accurate player faces (over 100+ updated & new ones added).
All of your favorite stars, be it Rohit, Virat, Dhoni, Sanju Samson, Kungfu Panday, KL Rahul, etc are modified to a great extent to make them look super realistic in the game for the utmost experience.
A bundle of
Realistic IPL 2022 Overlays that will Blow your Mind
You know what, Playing an IPL match with IPL Scoreboard is now possible in this game.
No more default & boring overlays as IPL Cricket 22 comes with Broadcasting Overlays for all the 10 IPL teams. Moreover, you get complete control over overlays as you can change them anytime.
So, it's time to
TAKE Charge and Feel the Realism in IPL Cricket 22
Enter the most competitive field & feel the Realism with Realistic Stadiums, Lifelike Pitches, Branded Player Bats, Unique Camera Angles, Realistic Boundary Ads, New Authentic Kits, Mouth-watering graphics, Update Squads, True-to-life player faces, Stroke variations and much more…


here's one wonderful fact
TATA IPL CRICKET 22 works with your
Existing Components!
Just download your copy, activate it & then launch the game with the exe & get going instantly. No additional components are required!
The Problem is that not all of us have a nice high-end pc with AMD Ryzen 7 processor along with GTX 1050 Ti graphics
That's why IPL Cricket 22 is made to work with your current Windows OS with existing system specs. Also, You can Play with your Keyboard and Mouse & even with the Gamepad. Nothing fancy required!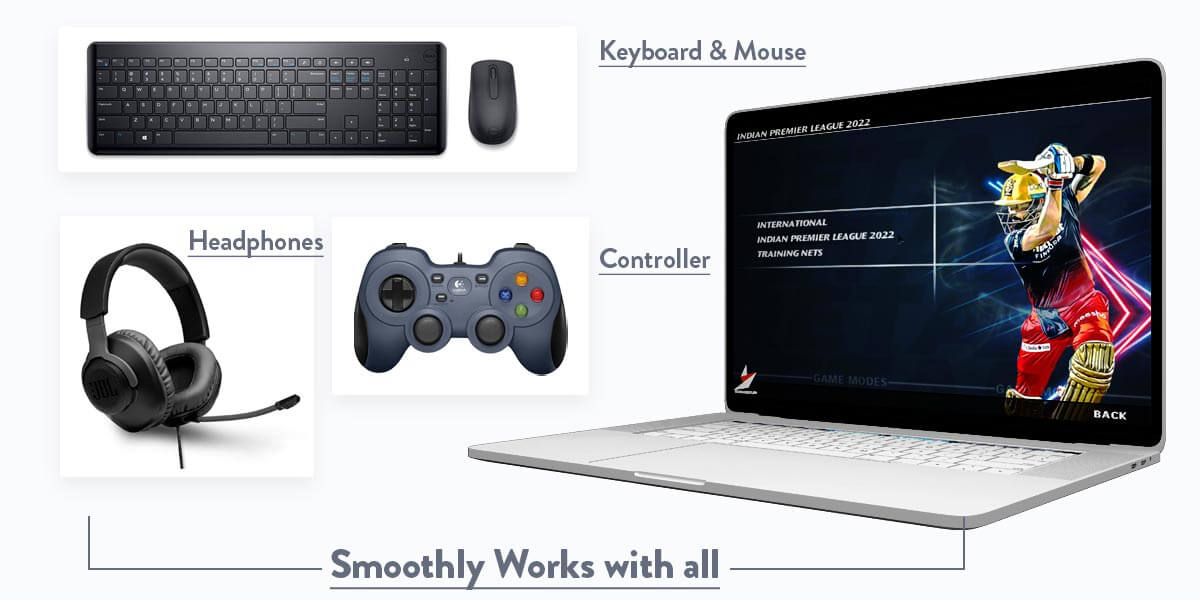 Disclaimer: This is not an official cricket game by TATA or EA Sports or BCCI & it's not licensed by any of the mega-company. This is a modded version game in which there are tons of new features that give the complete look of real-life cricket, International tournaments, and more importantly, the IPL 2022 matches, and you can enjoy it on your pc. Also, the above video is just for graphical representation. The actual gameplay may differ. This is purely developed by HD Studioz & A2 Studios modders & it's not funded by any company. We are just a platform where you can download such modded games at affordable prices.