8 Different looks of Mahi throughout his career – #No.2 is Top rated
Well, this man needs no introduction. He's one of those popular personalities who have little to no hatters. In India, MS is more than just a name, & to be honest, it's like emotion not only in India but also in the world. Throughout his career, he has achieved unprecedented success & he also holds national honors right from Khel Ratna to Padma Bhushan. Under his leadership, he has taken team India to new heights & has made unknown names a popular star in today's date (You know that).
He's the only captain to win all the three ICC championships. I won't go deep into his career and achievements because Wikipedia is already filled with his (huge) list of achievements & honors.
He also holds the honorary rank of Lieutenant Colonel in the Territorial Army unit of the Parachute Regiment (106 Para TA battalion).
Under the leadership of Sourav, MSD, also known as "Captain Cool" made his international debut for India in 2004. In his wonderful career of 16 years, MS has been the pillar of Indian batting line-up with over 17,000 runs across all the three formats of the game.
He has represented India in 350 One-Day International's, 90 Tests and 98 T20 Internationals along with 829 (amazing) dismissals behind the stumps.
MS has won the hearts of millions with his impressive batting style, calm nature & along with that the numerous hairstyles that he has sported over the years have also been immortalized. He has been a kind of "trend-setter" off the field. Right from long golden-brown locks to a completely bald, MS has done it all.
Before, we dig deep into the list, here's something imp to note…
*Note: Consider this list as an opinion of the author & please don't get offended.
Now without any further a due, let's take a look at his numerous hairstyles…
8 Different Looks of MSD throughout his Career (By Rankings)
8. Long Golden Hair (2006)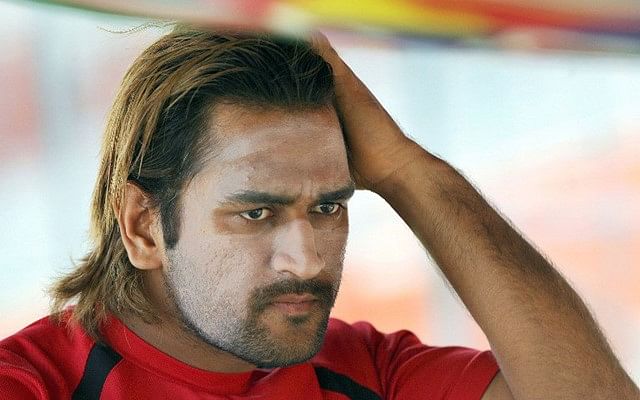 After a couple of years from the start of his cricket career, Mahi became popular for his "long golden hair" than his batting capabilities. It may be because it was the very first time an Indian cricketer was seen sporting such a unique type of look.
Don't know how true is this that MS admired John Abhrahim & therefore he copied his look. Anyways, in 2006 MS had long locks that were golden-brown in color.
At that point, the Ranchi Starwalt received a lot of appreciation for his look. You may have also seen in MSD's Biopic that the former president of Pakistan "Pervez Musharraf" was so much in awe of his hairstyle during the Pakistan tour of 2006, that he advised him to not get a haircut.
I personally didn't liked him in golden hairs & that's why this hairstyle holds No.8.
Do you know? Even "Sakshi Dhoni" hated this hairstyle.
Once, Dhoni's wife Sakshi revealed that she has never been a fan of Dhoni's golden-streaked locks, which won the hearts of millions of fans around the country.
During a live chat with CSK presenter Rupha Ramani, Sakshi termed Dhoni's long orange hair look a 'disaster'. While she agreed it suited Bollywood actor John Abraham, who also sported a similar look, Sakshi insisted she liked Dhoni with his hair short. Source
7. The Mohawk Hairstyle (2013)
Over the years, MS had started opting for more subtle hairstyles (that you'll get to see in this post) as he led the Indian team in all the three formats of the game. But Mahi made sure that more than his personal life or appearance, he let his game do the talking. However, the master wicketkeeper managed to make heads turn whenever he sported a different look.
In the year 2013, he opted for a 'mohawk' hairstyle while captaining his IPL franchise Chennai Super Kings (CSK). It was one of the most criticized haircuts of MS in his entire career. It seemed, out of the box hairstyle. He completely trimmed both sides and sported a Mohawk.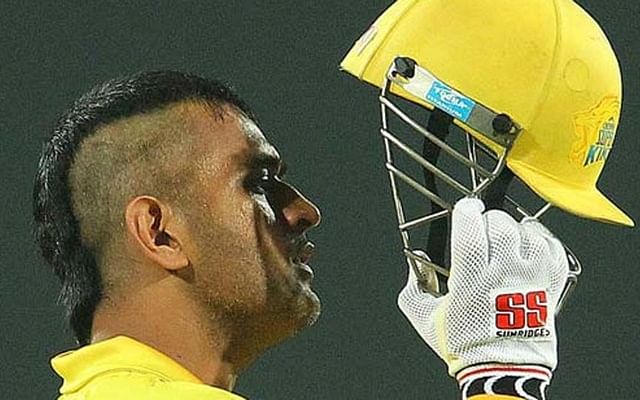 In the early days, MS faced a lot of criticism for his new-look but eventually, people got used to seeing their captain in Mohawk style & were completely fine.
Hate to say this, but it really looks ugly.
Till the year 2013, MS had achieved a lot of fame after winning the 2 World cups for India & therefore he was known & judged for his capabilities, captaincy & not his looks.
That's the reason the folks accepted his Mohawk or rather say ugly looks & moved on. This hairstyle ranks 7th on the list.
6. The Bald (Ghajni-look) (2011)
After winning the World Cup 2011, the whole of India was united & praised the performance of the team India & especially MS for his outstanding performance in the final match. After the WC win, the former Indian captain won hearts of Indians & nearly got another million followers. Right after the World Cup, MS went bald which was really shocking for his fans. I was really shocked to see him in that look.
Although he looked smart & relaxed in this pic, it was a bold move from his side as he was one of those cricketers who was known for his hairstyles, as per the experts.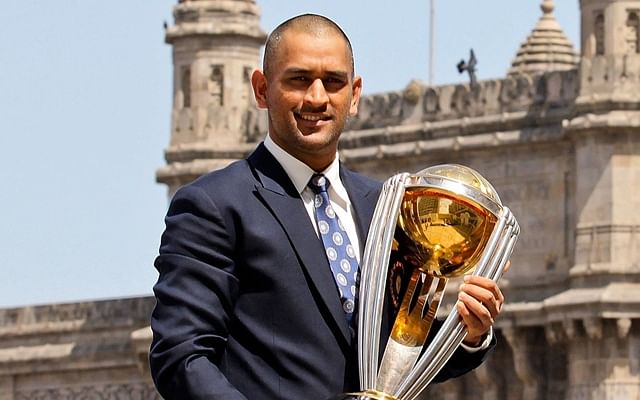 MS unveiled his look while posing for a picture after India's historic victory in the ICC Cricket World Cup 2011. While posing for an iconic photo in front of the "Gateway of India" in Mumbai, he revealed his new hairstyle. He had completed trimmed his hair and sported a near-bald look.
Some of his fans loved & appreciated his new look & some called him Gajni. Anyway, he again created a buzz & was a major part of the discussion.
At first, it was surprising for me as well, but after a while the look suited him & therefore I have ranked this hairstyle on No.6 position.
5. The 'Summer' Haircut (2008)
Back in 2008, the Ranchi star had surprised his fans post the T20 World Cup 2007 by cutting his hair short. All had mixed reviews regarding his new look as some fans appreciated this sober hairstyle while many missed his long locks.(me too).
Dhoni took an ideal summer look as his hair was trimmed on the sides and the volume of hair was only on the nape and crown.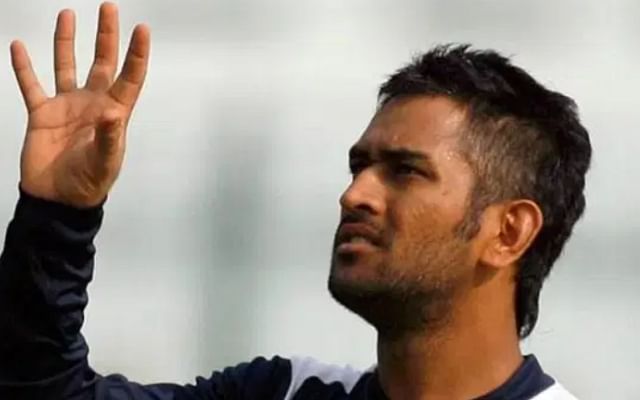 And you know that this incident again resulted in cricket fans cutting their long hair just to copy their (all-time) favorite cricketer.
Whatever he does, it's admired by his fans (especially youngsters). This simple look also suits our Captain cool & hence it's ranked on No.5 position.
4. The 'Salt & Pepper' look (2018)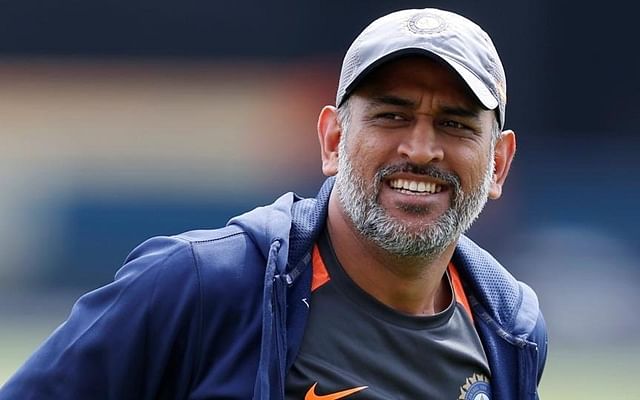 In the year 2018, MS again brought a surprise package for his fans as he set a new fearless standard of fashion with his 'salt and pepper' look.
This unique style with black hair & a grey beard gave an example of Mahi's real character as he didn't intend to please people & he made no attempt in hiding his real age. He was 37 when he got this new Salt & Pepper look. The combination of grey and black color enhanced the overall look of Mahi.
This look didn't created much buzz but it did surprised many. Some has opinion that his new hairstyle made him look more mature and elegant. Anyway, this realistic look ranks No.4 on the list.
3. MSD's new Summer look (2020)
MS has been absent or rather say disappeared from the cricket field after the crucial semi-final match against New Zealand in ICC Cricket World Cup 2019. However, Mahi made an appearance at the airport while arriving at Chennai Super King's training camp for IPL 2020 earlier this year. Yet again, the best finisher was seen in a new & fresh look.
Mahi looked stunning & pretty refreshed in his new hairdo as opted for an "ideal summer look" by getting his hair trimmed on the sides and keeping a little volume of hair only on the top.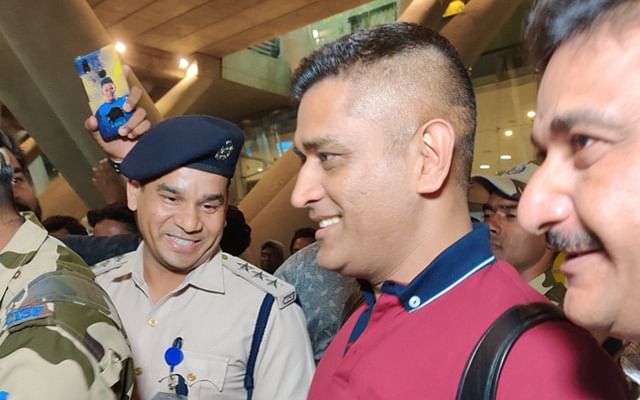 Also, this can be considered as an ideal summer look keeping in mind the amount of heat and humidity of Chennai. But Sadly IPL didn't happened due to COVID-19 outbreak.
Anyway, this fresh look ranks No.3 on the list.
2. MSD's Best look – Long straightened hair (2007)
This one is MSD's best look. After India's victory in T20 World Cup 2007, Dhoni's career took heights & got him fame and popularity all over the world. After the T20 World Cup, Dhoni was seen as a quality leader who could lead the team from the front and win matches for India both at home and abroad.
During the WC T20 tournament, Mahi was seen carrying long straightened hair which was jet black in color. This (amazing) look of the Captain cool was admired & emulated massively by many youngsters in our country.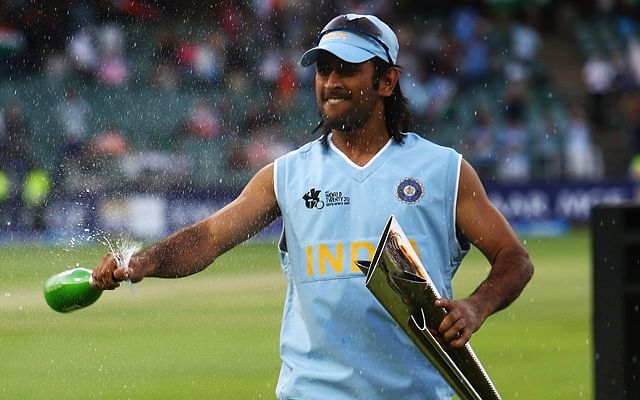 Even today, many praises his 2007 hairstyle & some even desire to see dhoni back in long hairs just like he was in 2007. When MS had long straightened hair, his personality brightened up & he really looked very charming at that point of time.
For me, it's MSD's best look & hence it's No.2 on the list.
1. The Biopic Promotion look (2016)
I would have rated this one as #No.2, but because of the man on the left of MS, made me rank this look at No.1 position. Together they really look awesome.
Anyway, Back in 2016, when MSD's biopic graced the silver screen, Mahi's popularity was immensely increased as the movie based on his journey received a lot of appreciation and love from the audience.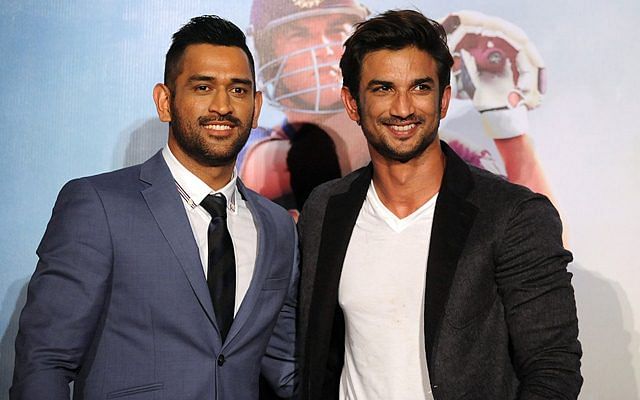 Initially, it was out that MS won't need to promote his biopic, but however, he took extra efforts in promoting his biopic & was seen in various interviews along with the late SSR & while promoting his biopic, the captain cool looked charming & very young. MS was seen sporting a trimmed mid-length hair look with a stubble. In this look, MS appeared a bit more mature character.
Also Check Out: 5 Indian Cricketers who holds Honorable Govt. Jobs
---
Well, the list could go on as MS took different looks throughout his career, but these 8 have to be the best & out of which #No.7 was the most disappointing one for his fans.
Anyway, let us know your favorite look of MS from these 8 & also make sure to share it with a cricketing fan on any social platforms…