Well, this man needs no introduction. He's one of those popular personalities who have little to no hatters. In India, MS is more than just a name, & to be honest, it's like emotion not only in India but also in the world. Throughout his career, he has achieved unprecedented success & he also holds national honors right from Khel Ratna to Padma Bhushan. Under his leadership, he has taken team India to new heights & has made unknown names a popular star in today's date (You know that).
He's the only captain to win all the three ICC championships. I won't go deep into his career and achievements because Wikipedia is already filled with his (huge) list of achievements & honors.
He also holds the honorary rank of Lieutenant Colonel in the Territorial Army unit of the Parachute Regiment (106 Para TA battalion).
Under the leadership of Sourav, MSD, also known as "Captain Cool" made his international debut for India in 2004. In his wonderful career of 16 years, MS has been the pillar of Indian batting line-up with over 17,000 runs across all the three formats of the game.
He has represented India in 350 One-Day International's, 90 Tests and 98 T20 Internationals along with 829 (amazing) dismissals behind the stumps.
MS has won the hearts of millions with his impressive batting style, calm nature & along with that the numerous hairstyles that he has sported over the years have also been immortalized. He has been a kind of "trend-setter" off the field. Right from long golden-brown locks to a completely bald, MS has done it all.
Before, we dig deep into the list, here's something imp to note…
*Note: Consider this list as an opinion of the author & please don't get offended.
Now without any further a due, let's take a look at his numerous hairstyles…
8 Different Looks of MSD throughout his Career (By Rankings)
8. Long Golden Hair (2006)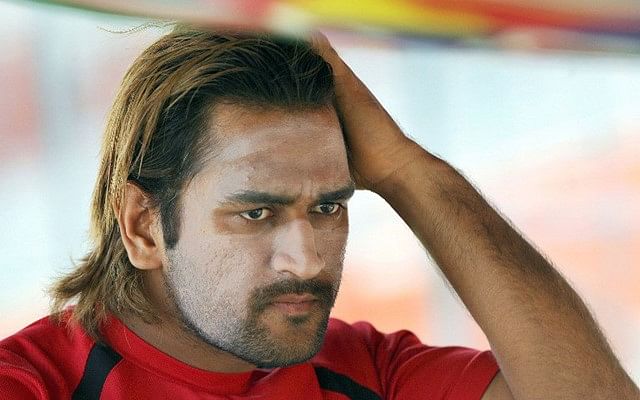 After a couple of years from the start of his cricket career, Mahi became popular for his "long golden hair" than his batting capabilities. It may be because it was the very first time an Indian cricketer was seen sporting such a unique type of look.
Don't know how true is this that MS admired John Abhrahim & therefore he copied his look. Anyways, in 2006 MS had long locks that were golden-brown in color.
At that point, the Ranchi Starwalt received a lot of appreciation for his look. You may have also seen in MSD's Biopic that the former president of Pakistan "Pervez Musharraf" was so much in awe of his hairstyle during the Pakistan tour of 2006, that he advised him to not get a haircut.
I personally didn't liked him in golden hairs & that's why this hairstyle holds No.8.
Do you know? Even "Sakshi Dhoni" hated this hairstyle.
Once, Dhoni's wife Sakshi revealed that she has never been a fan of Dhoni's golden-streaked locks, which won the hearts of millions of fans around the country.
During a live chat with CSK presenter Rupha Ramani, Sakshi termed Dhoni's long orange hair look a 'disaster'. While she agreed it suited Bollywood actor John Abraham, who also sported a similar look, Sakshi insisted she liked Dhoni with his hair short. Source