Top 5 Indian Cricketers who hold Honorable Government Jobs – #No.2 May Surprise you
We all know that Indian Cricket has been always special & it's has been honored with several all-rounders in this sport. These incredible achievers have juggled their studies along with (long) practice sessions during their early days.
Some of the renowned names like VVS Laxman, Rahul Dravid & Anil Kumble, etc have not only achieved great feats in the cricket world but they are also highly educated & some of them had been holding jobs in the various professions, before opting for the full-time cricket.
Nonetheless, it's responsibility of the Indian Government to look after those cricketers who decided to commit their lives completely to the sport and have a fall-back career option after their retirement. Our Indian Government generally rewards the players for their exceptional performances & achievements, service to Indian cricket, & also for making country proud.
So, today, let's take a look at 5 Indian Cricketers who holds "honorable" government jobs…
Top 5 Indian Cricketers who hold "Honorable" Government Jobs
5. Joginder Sharma: DSP of Haryana Police
Who can forget the name of "Joginder Sharma".
He's remembered for his final over that he bowled against Pakistan in the inaugural 2007 T20 World Cup Final in South Africa which is perhaps the greatest moment of Joginder Sharma's cricketing career. He dismissed Pakistan's Misbah-ul-Haq in the final & as a result, India won the first-ever World T20 trophy.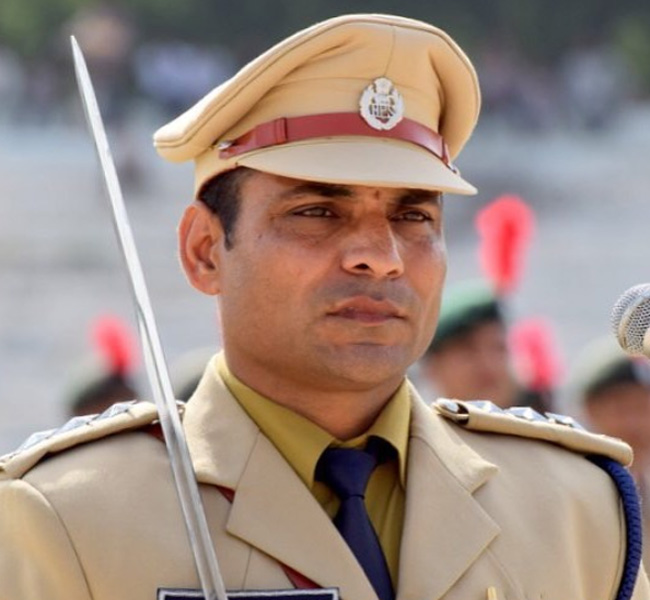 Joginder Sharma was rewarded heavily for his iconic contribution as he received a huge cash prize of 21 Lakh INR from the Haryana Government.
Apart from that, he was also handed a job by the Haryana Police as Deputy Superintendent of Police in October 2007. At that point of time, maybe even Joginder himself didn't know that it would turn out to be a step towards his ultimate future.
However, after playing a couple of seasons of IPL Cricket in CSK, a little was heard of the all-rounder & post that he seemed to disappear.
Joginder Sharma had done the nation proud in a blue jersey 13 years ago & continues to do the same in his Khaki uniform at present.
Apart from Joginder Sharma, Harbhajan Singh & Harmanpreet Kaur was also offered an honorable post of Deputy Superintendent of Police (DSP) by Punjab Government as an honor to their service to the country.
4. Sachin Tendulkar: Group Captain (Indian Air Force)
The legendary Sachin Tendulkar has achieved many things in his career. He has won the World Cup, scored a century of centuries, frightened bowlers for decades & a lot more. However, there is another feather in his cap that is probably much more respectable & awe-inspiring.
Many of us know that Sachin has been honored with prestigious national honors like Arjuna Award, Khel Ratna, Padma Shri & also India's highest civilian award i.e Bharat Ratna. But, most are not aware that he's also a Group Captain in IAF.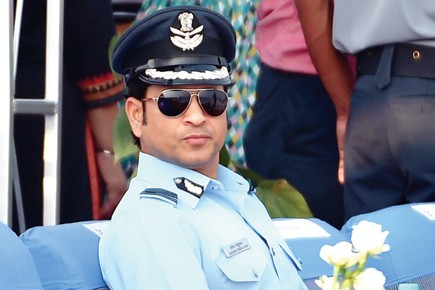 For his monumental contribution towards Indian cricket, "Group Captain" – a position that is high up the Indian Air Force (AIF) ranks has been conferred to the 'master blaster'.
On September 3, 2010, IAF Air Chief Marshal "P.V. Naik" did the honors at a ceremony in New Delhi.
Sachin Tendulkar is the first sportsperson to be awarded such an honor by the Indian Air Force.
Last year, Sachin – The Group Captain, also attended the 87th IAF Day function at Hindon air base & was spotted in his IAF uniform for the celebrations.
3. MS Dhoni: Lieutenant Colonel (Indian Army)
Right from two World cups to Padma Bhushan, MS has all prominent titles to his name at the highest level. Just like his love for the game, MS has a lasting connection with the Indian Armed Forces. He has confessed that he always wanted to be a part of the Indian Army and fight for the country & that dream was fulfilled in 2011.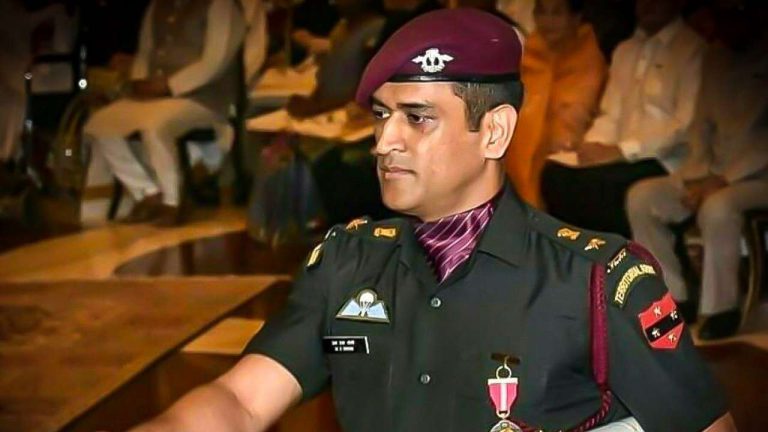 MS Dhoni holds the honorary rank of Lieutenant Colonel in the Territorial Army unit of the Parachute Regiment (106 Para TA battalion).
This is an honor he was granted by the Indian Army after winning the 2011 World cup.
MS was given this honor along with Abhinav Bindra and Deepak Rao, a leading expert in close combat warfare.
In the year 2015, MSD became a qualified paratrooper after having completed five parachute training jumps from Indian Army aircraft in the Agra training camp.
In August 2019 he completed a two-week stint with the Territorial Army in Jammu and Kashmir.
MS is not India's first cricketer to get this honor. Before MS, the first World Cup-winning captain Kapil Dev conferred with the honorary rank of Lieutenant Colonel in the Indian Territorial Army.
2. Yuzvendra Chahal: Income Tax Officer
Yuzvendra Chahal's brand value has increased a lot in the last few years. After being a key member of Royal Challengers Bangalore since the 2014 season. In the next three IPL seasons, he displayed his potential and was duly rewarded with a national call-up in June 2016, since then he is one of the top spinners in the Indian side.
In the last couple of years, this leg-spinner has become a key member of the Indian limited-overs squad and his partnership with Kuldeep Yadav has been a game-changer for India in the middle overs.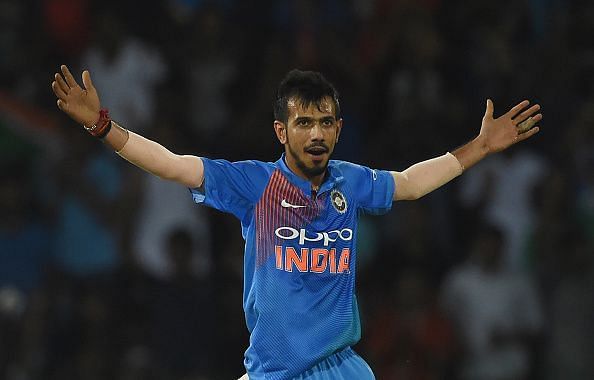 Together they are known as "Kul-Cha".
Anyways, with Yuzi gaining such popularity in international cricket, the Income Tax Department has rightly roped him in by offering the job of an Income-tax officer in the year 2018.
Chahal was also spotted wearing glasses on South Africa tour.
On inquiring with his father in Haryana, it was learnt that the glasses he has now started using is for precautionary measure.
"Before going on a South Africa tour, my son was advised (by an eye specialist) to wear glasses occasionally," he said.
His eye sight is not weak but was advised (to use it) when he underwent the government medical tests which were compulsory before joining the new job".
"He has been selected as an income tax inspector and will be joining the post in Delhi immediately after his return from the current tour," he added. Source.
Not many know that he was a "National Junior Champion". Not only did he win the National Under-12 Championship in Kolkata in 2002, but he also represented the country at the Asian and World Junior Championship in Chess.
1. KL Rahul: Assistant Manager (RBI)
KL Rahul, perhaps one of the most glamorous cricketer in the Indian Cricket is also one of the regular features for India in white-ball cricket. In recent years, he has proved time and time again that he's a special player & as of now, he's an important player at top of the order. Not only he has a great female fan following but he posses some special qualities aaccording to the experts.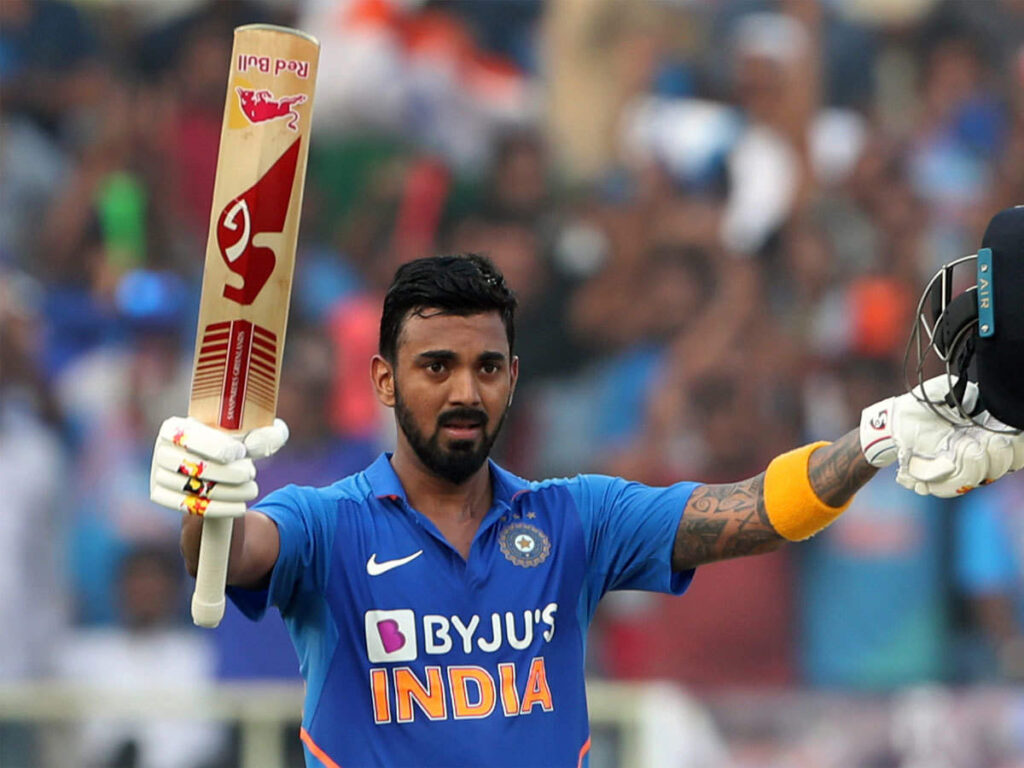 KL Rahul was hired by the Reserve Bank of India and they offered him a post of Assistant Manager.
On a show, KL mentioned that both of his parents are professors & they wanted him to become an engineer like his sister.
They were unhappy with his career choice and still aren't the happiest when he scores the century.
He also added that his mother and father were the happiest when he got a stable job in the Reserve Bank of India (RBI).
The Karnataka stalwart is also the face of RBI from the Indian team along with cricketers like Umesh Yadav and a few others.
A side note: KL is not only the cricketer to get a job from RBI. One of the fittest Indian cricketer Umesh Yadav, who was an aspiring constable a decade ago, became an assistant manager in Reserve Bank of India, Nagpur in 2017.
---
Final Words
These are some of the great examples of honorary ranks conferred to sports personalities for their great performances. Some agree with the Indian Government decisions & some don't. We hope you enjoyed this cricticle.
Replying to the serving by MS Dhoni to the Indian army, Former Indian cricketer Gautam Gambhir in a reply to a query on a controversy over dhoni.
"See, it's fine. If he enjoys it and if it comes from within, he is absolutely right in wearing it," Gambhir told The Indian Express.
"But it should not be made into the news. Honestly, I think, the Army doesn't need any endorsement. The Army doesn't need any marketing. I have never been in favor of honorary ranks (in defense forces) as well. I have been very vocal about it. People have given their sweat and blood to achieve that uniform. There is honorary everything, at least leave the defense services out of it…"
As I mentioned, some agree & some don't.
Anyways, let us know your thoughts in the comment and also make sure to share it with a cricket fan on social platforms…