Latest Kits for Cricket 07 | Free Download
If you're looking for the latest kits for cricket 07, then here comes the mouthwatering Team India's and Team Australia's Test Kitspack for India Tour of Australia 2020-21 patch (releasing soon). These new kits for cricket 07 are developed by modder GR mods of HD Studioz.
Presenting the all New Kitspack 2020-2021 of Team India and Team Australia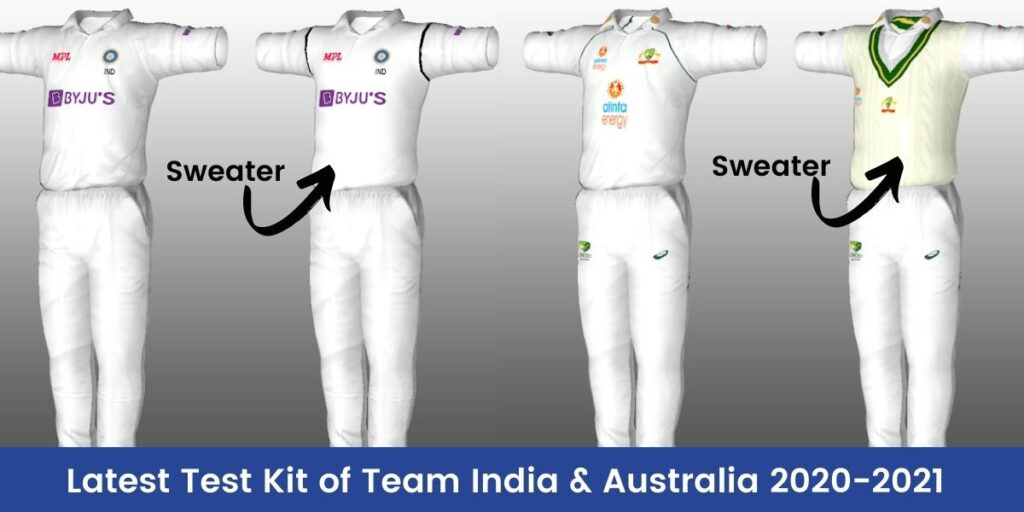 This 2020 Kitspack, comes with accurate jersey textures, helmets, cap, shoes, sweater, batting pads, batting gloves, wicket keeping pads, wicket keeping gloves, sunglasses and latest jersey sponsors.
In-game Preview of India's and Australia's Test Kit 2020-2021
You can download both the kits for free from the below provided links.
How to Apply these New Kits in your Game?
Step 1: First and foremost, download your desired kits from the links provided above.
Step 2: Next, extract the kits file in a new folder using Winrar or 7zip software.
Step 3: Then, open the folder and copy all the .big & .fsh files and then paste them in your desired patch/game.
Applying these new kits are very simple – Just copy and paste & you're good to go.
Important Info about – Latest Kits for Cricket 07
Please Note that the Future kits for cricket 07 game will be released on this post only.
So if you are someone who loves the kitspack & want to download the Latest Kits for Cricket 07 then do bookmark this post by pressing CTRL+D or else remember this url – https://insidecricketsport.com/latest-kits-for-cricket-07/
More International & Domestic Kits of year 2020-21 will be released soon. Stay tuned for updates!